Sentro ng Alternatibong Lingap Panlegal (SALIGAN), Inc. is a legal resource non-government organization (NGO) doing developmental legal work for the marginalized, disadvantaged, and exploited sectors in the Philippines. Founded in 1987, it responded to the need of the sectors for legal empowerment and legal representation.
"Saligan" means that which is fundamental and basic. SALIGAN works with and represents the basic and marginalized sectors in the Philippines, on whom rests the attainment of justice and social change in the country. It has operations throughout the country through its offices in Metro Manila, the Bicol region, and Mindanao.
SALIGAN is one of the founding members of the Alternative Law Groups, Inc. (ALG), a coalition of legal resource developmental NGOs throughout the Philippines.
SALIGAN continues to influence pro-labor amendments to the Labor Code, engages in the discussion of public sector union issues, and addresses migrant workers' concerns. We also address issues of security of tenure, the right to living wage and speedy labor justice, the welfare of women workers and child labor.
SALIGAN handles cases of victims of gender-based violence and advocate for the enactment of laws and issuance of policies addressing women's issues towards gender equality. We also have women paralegals than assist litigants in the courtroom and other concerns in their communities. Gender issues are mainstreamed in all of SALIGAN's programs and activities.
SALIGAN works with children and child-focused NGOs and networks for the full domestic adoption and implementation of the UN Convention on the Rights of the Child, and its accompanying documents.
SALIGAN works with the basic and marginalized sectors for their meaningful engagement in all levels of governance. Primarily, SALIGAN directs its efforts and resources to increasing people's participation in local governance. We conduct trainings on local legislation and policy formulation, the barangay justice system, and the national advocacy to democratizing local governance.
SALIGAN recognizes and supports the indigenous peoples' struggle for their right to self-determination. As such, we work for the right to ancestral domain and the passage of the National Land Use Act to address conflicting legal provisions regarding ownership and use of land and other resources. SALIGAN also works for the recognition of tribal justice system and governance, and representation in local government units. We have published a material on IP's local governance participation.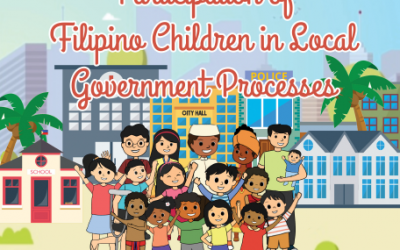 This book is intended for children to learn and understand about the different venues in the local...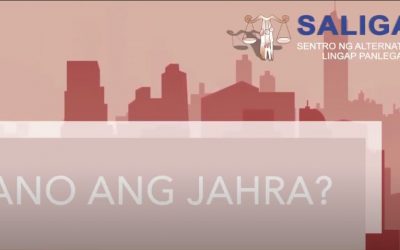 Ano ang JAHRA? Ang Just and Humane Resettlement Act (JAHRA) ay isang panukalang batas na sususog...